Thirty-three years ago, Zhu Jianyong, a 19-year-old woman with more than a dozen fashion shoes designed and manufactured by himself, drove from Wenzhou to Hangzhou by car, then by boat to Suzhou, and finally completed his first 300 pairs of shoes.
Thirty-three years later, he devoted himself to shoemaking, turning Jindi from a family workshop of more than ten people into a shoe group of more than 65,000 people with an annual output of more than 25 million pairs, and became the largest shoe export enterprise in Zhejiang Province for 11 consecutive years.
All this is due to his integrity, innovation and responsibility.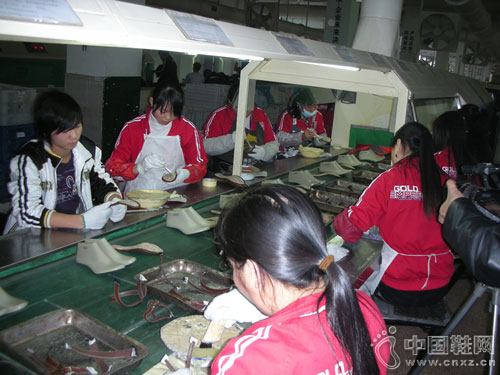 "Take integrity as the lifeline of enterprises to alert themselves and consciously improve product quality from the customer's point of view." It is based on the integrity-based business philosophy and the pursuit of product excellence that in 2002, Jindi began the cooperation between professional chemical factories and brand retailers by associating with Daisym Group, the largest footwear retailer in Europe. Ten years later, Jindi became the world's leading supplier of the multinational group. For every 10 pairs of shoes sold in Europe, one pair was made by Jindi.
In order to enable enterprises to remain invincible in the fierce international market competition, Zhu Jianyong established R&D centers and innovation pilot centers, invested hundreds of millions of yuan in industrial upgrading, intensified innovation in technology and management, and explored a new shoemaking industry model of intelligent manufacturing and lean management.
In 2016, Jin Di was awarded the sole "Zhejiang two integration pilot unit". Innovation also brings a sustained dividend to Jindi's competitiveness. Its productivity has increased by 30% compared with five years ago, but the number of employees has decreased by 20%, employees'income has increased by 40%, and profits and taxes have increased by 35%. Jindi is also the first company in Wenzhou shoemaking industry to pass AEO Customs Advanced Certification, an international "Gold Medal Pass".
To break the magic spell of low-end hovering in shoes and clothing industry and become a worthy leader in the field of footwear export; to turn "labor-intensive enterprises" into "technology-intensive enterprises" in the eyes of others. The stories of Zhu Jianyong and Jindi contain the details of Wenzhou manufacturing transformation and development.